The 1998 Pack Attack Golf Challenge

The 1998 edition of the Pack Attack Golf Challenge took place over the Memorial Day weekend in the Seattle area. The two teams going for the title were:
Team Tukwila Tavern
Chuck Gullick
Bruce Kolpack
Mark Loftus
Doug Proctor


Team Slazenger
Rob Beer
John Goulet
Dave Kolpack
Jeff Kolpack

Dave, Jeff, and Rob flew in from Fargo. John flew in from Dallas, and Chuck flew in from Sarasota for a rare reunion with his three former roommates of the late '70s and early 80's. Chuck, Doug, Mark, and Bruce rented a house that was affectionately known as The Tukwila Tavern. John is a factory representative for Slazenger Golf and kindly supplied the team golf shirts and plenty of high quality Slazenger golf balls.
The Good................................ The Bad............... and The Ugly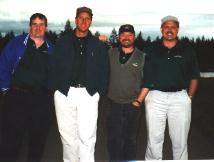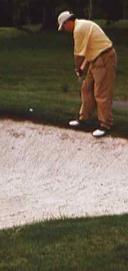 Well, the above caption pretty much sums up the results of this year's event. But it looked to be a real dogfight after the first day of competition. The first round was played at Mariwood. The competition was Four Ball.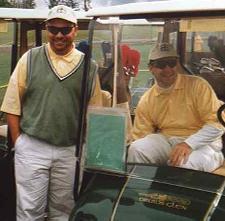 Team Slazenger sent Rob Beer and Jeff Kolpack against the Tukwila Tavern team of Bruce Kolpack and Mark Loftus. Rob's 78 coupled with a strong showing by Jeff, gave the Slazenger team a victory.
The other match saw Dave Kolpack and John Goulet of Team Slazenger taking on Doug Proctor and Chuck Gullick of TTT. It was destined that the key to this match would be Proctor's putter. Dave had been ribbing Doug for two years about a poor putting performance in a previous competition, but Doug responding in grand fashion by sinking everything in sight. Doug's putter, combined with a sub-standard performance by John gave the Tukwila boys a victory to even the competition.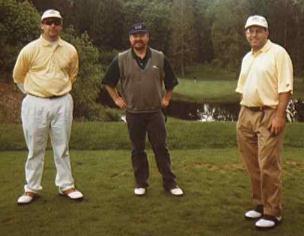 The second day of competition featured Match Play at Druid's Glen. The handicaps were adjusted after the Mariwood round and the matches were set by individual seed. The matches featured:
Rob Beer vs. Doug Proctor
John Goulet vs. Bruce Kolpack
Dave Kolpack vs. Chuck Gullick
Jeff Kolpack vs. Mark Loftus
Team Tukwila Tavern started out strong as Doug put the screws on Rob. Doug traded in his stellar putting game for a stellar driving game. Rob paid the price for shooting a 78 in the previous competition. With the number of strokes he had to give Doug, he was forced into playing for birdies... and made too many bogies.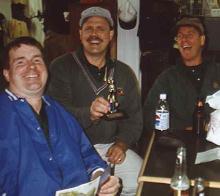 As Doug was destroying Rob, Mark was doing the same to Jeff. Chuck came out on top against Dave, and John's victory over Bruce was inconsequential. Team Tukwila Tavern took the title in a rout.
It was noted that all the Kolpacks lost their matches, and fortunately for Team Tukwila Tavern, they only had one Kolpack on their team.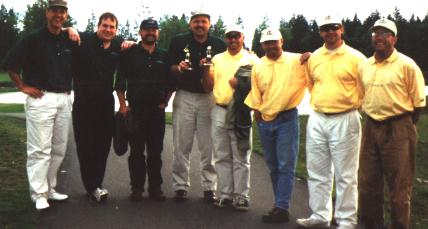 All in all, it was a great weekend that also featured the annual Memorial Day party with The Way Too High Alpine Band, a Mariner's game, and lots of mayhem and madness.