Tamarindo to Alehuela
We left Tamarindo around mid-afternoon. The plan was to stay at a place in Alehuela, a town near the San Jose airport. The next day, Pat and Mike would fly home, and Laura and I would rent an SUV and head for the Arenal Volcano.
About half way into the trip, we were flagged down by a policeman. Pat had failed to see an obscure speed limit sign and we were clocked at 80 km/hr in a 25 km/hr zone. Mike was fairly fluent in Spanish and talked to cop. He explained the circumstances and asked the cop if he "look the other way" to which the cop responded that "times were very tough" and that 5000 colones (about 18 bucks) would really help. Our donation caused him look the other way.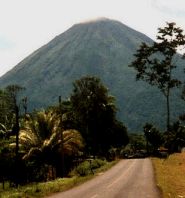 The Arenal Volcano
The next day, Wednesday, we rented a Suzuki Vitara SUV and took off for the town of Fortuna at the base of the Arenal Volcano. The road was narrow and winding, but in pretty good condition.
The 5300 foot volcano awakened in 1968 killing 80 people and wiping out a village, and has since been Costa Rica's most active volcano. We were told that due to the frequently cloudy weather of the area, the volcano is only visable less than 5 days a month. We were there for three days and the entire cone was visable almost the whole time.

We drove up to the Arenal Obsevatory Lodge which was originally built for vulcanologists from the Smithsonian Institution and later converted to a lodge. It sits on a ridge only 2 1/2 miles from the lava fields, and the road to the lodge is extremely steep and rough.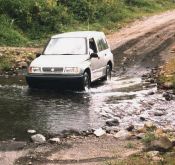 The lodge was full, so we wound up staying Wednesday night at the nearby Linda Vista Lodge. Although the Linda Vista was a little farther from the volcano, it also had a great view of Lake Arenal.
During that day and night, we could hear the occasional rumblings of the volcano, but saw no fireworks. We were told that the fireworks could be seen at night from the Tabacon Hot Springs Lodge on other side of the volcano.
The Tabacon was not exactly in our budget, but we decided that this was something we didn't want to miss.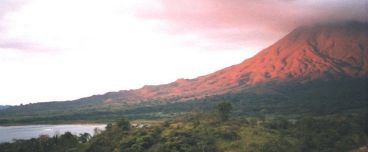 Click here to continue...